Uploading torrent files to Seedbox
From Pulsed Media Wiki
This article will explain how to add .torrent file into Seedbox
Using ruTorrent GUI
Step by step guide for adding .torrent via ruTorrent GUI

1. From left top corner click the icon "Globe". New window will appear.
2. From the window just appeared click "Browse" and locate .torrent file from your computer.
3. Select the file and click "Open".
4. Click "Add files".
Watch folder
Default on all Pulsed Media seedboxes
Under your home directory there is a directory called watch
Just add files to this directory and your files will be added.
Custom watch folders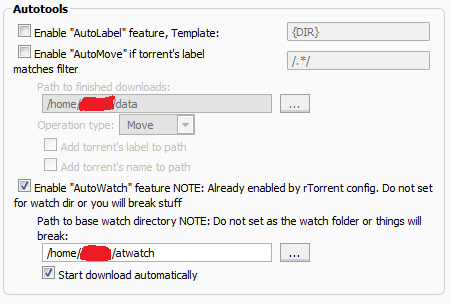 ruTorrent will watch this folder. Files in watch folder will be automatically added to rTorrent. Please note that autotools can be a little bit flaky and can cause issues. Use separate watch directory for autotools, do not use ~/watch/ but make a new one, for example: ~/watch-autotools/ for it, and use full path with your username, for example if your username is joe then: /home/joe/watch-autotools/
1. Find out your watch folder
1.1 From ruTorrent GUI click settings.
1.2 From settings click autotools.
1.3 Enable "AutoWatch" feature.
1.4 Enter Path for folder which will be watched.
1.5 Tick "Start download automatically" if you want to automatically start downloads
2. Connect via sftp/ftp to seedbox. (See Seedbox access via FTP, SSH and SFTP)
2.1 Browse to Path you previously set on ruTorrent
2.2 Upload .torrent file(s) to folder and they will be automatically added to rTorrent.
(When removing torrent please note that .torrent file needs to be removed from watch folder also to avoid getting it added again)